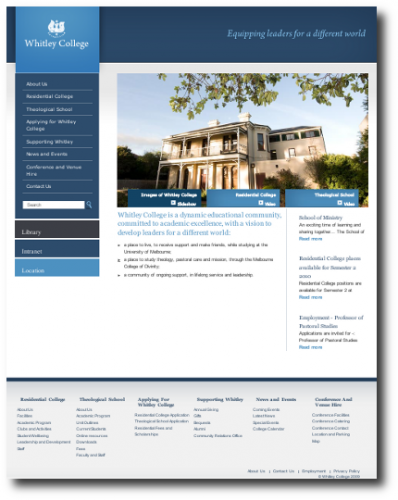 Around this time last year we were contacted by Whitley College to provide a quote for implementing their new website. They were evaluating whether to go with Joomla or Drupal.  But it wasn't until early October 2009 that we were engaged to proceed with the project.
Whitley College had already undertaken substantial work on information architecture by working with internal stakeholders, and an external designer. So in many ways much of the hard work was already done by the time we came on board.  This project reinforced my belief on how important it is to think through the info-architecture right from the start.
Rodney Gedda at Techworld has just published a case study on the Whitley College move to Drupal.
Uni college ups grade with open source CMS project: Requirements scoping can be like Voodoo
The design was created by Chantelle Baxter - Creative Contingencies created a custom Drupal theme from design mockups and HTML/CSS provided by Chantelle, and implemented the site. The college has now also used that theme for their intranet. We also conducted staff training, and have an ongoing support arrangement. 
This project was really enjoyable thanks to the honesty and commitment of the college Community Relations Director, Kerry Cook who managed the project so effectively.
Project partners
Tags: