It was a drupal filled week.  We set two new Drupal sites free into the world, and signed up to sponsor DrupalSouth.



DrupalSouth is happening in Wellington on the weekend of 23-24 January 2010. It promises to be New Zealand's largest gathering of Drupalppl with Australia and elsewhere due to the proximity of linux.conf.au taking place the week immediately before hand. The totally fabulous Angie Byron and Emma Jane Hogbin will be speaking, as will scores of other great Drupal professionals, and not-so professionals.  After attending Melbourne DrupalCamp earlier this year, I am really looking forward to participating and getting to know more of the local community.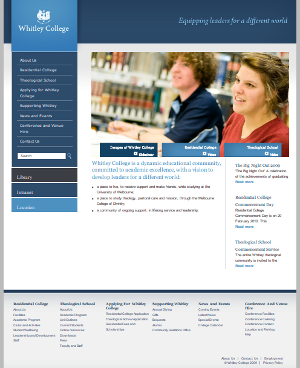 If you do Drupal, want to learn more about Drupal, and engage with the Drupal community, then this is a fantastic opportunity to dive into the deep end and swim!

http://wellington2010.drupalsouth.net.nz/

The new Whitley College website went live on Friday.
Whitley College is both a residential college of the University of Melbourne and a theological school of the Melbourne College of Divinity.
The Whitley team have been hard at work on their new website for some time now, as they were addressing the challenge of bringing those two elements together under the one roof.
We were brought in for the final stage to create a custom Drupal template based on design by Chantelle Baxter of Mod Digital. We also ran Drupal Training sessions for the Whitley team responsible for ongoing management and maintenance of the site.

http://whitley.unimelb.edu.au/

ACEC2010 is the biannual national conference of the Australian Council for Computers in Education. It's organised each year by a different state affiliate, and in 2010 ICT in Education Victoria is bringing the conference back to Melbourne for the first time since 2000!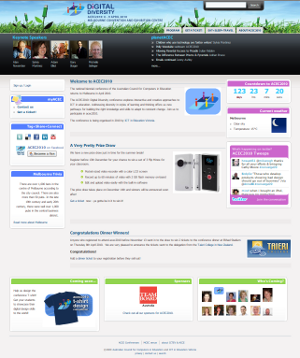 We've been contracted to develop the conference website - and we're doing it in Drupal.  This involves custom modules for paper submission, and a double blind peer review system, along with lots of other core and contrib modules. 
The site has been running Drupal since early this year, but was refreshed with a new theme and info architecture last week. Much more emphasis on linking to other social networking sites and engaging with the professional network that grows around the conference.
We've been involved in running events for some years now, and we had a roll your own system which was just getting increasingly hard to maintain in a small shop like ours. The nice thing about this project is we'll be sharing the results with the community.

http://acec2010.info
Both Peter and I have already made use of this development to set up the websites for Libre Graphics Day and Data Storage & Retrieval miniconfs at LCA2010 and at least 2 other miniconfs are using Drupal too!
Tags: